The Universal House of Justice has called on Baha'is across the world to sponsor an unprecedented series of conferences, exploring the inherent oneness of humanity and a universal call to work for the betterment of the world.
Bahá'u'lláh states that the purpose for which humankind has been created is "that they may work for the betterment of the world and live together in concord and harmony." His teachings help make this possible. "Building a society that consciously pursues this collective purpose is the work of not only this generation but of many generations to come." (The Universal House of Justice)
In responding to this purpose the Baha'is of Yellow Springs warmly invite you to join with us as we humbly engage in discussions pertaining to this sense of collective purpose.
---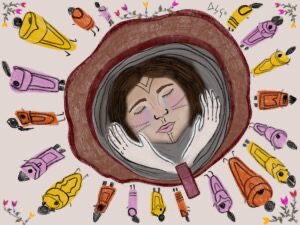 Cultivating a Culture of Peace for the Betterment of the World – Yellow Springs, Ohio
The Baha'is of Yellow Springs held their first Global Conference on Saturday, May 14, 2022 at the Herndon Gallery, Antioch College
Future Conferences:

We are planning another conference to take place in Yellow Springs and/or Springfield. If you are interested in attending please RSVP at ysbahai@gmail.com
Purpose of these Conferences:
To address the complex and challenging task of creating a society founded on spiritual principles

Inspire individuals and communities to release the potential for transformation that lies within

Cultivate a framework for action to create truly inclusive and unified communities
Bahá'ís everywhere are engaged in a global process of learning that is helping to build their capacity to apply the teachings of Baha'u'llah to the transformation of society. Enhancing such capacity in the individual can be likened to walking a path of service. "And crucially, one walks the path in the company of others." In a humble posture of learning we will reflect upon this grassroots community development experience during the past 25 years of the Baha'i World Community.
This global process, what Baha'is call a culture of learning, consists of:
Gatherings for collective worship that strengthen the devotional character of the community
Fostering a spirit of friendship and intimacy that transcends the barriers of race and class
Working together for a social order free of prejudice and characterized by unity in diversity
Learning to walk with others on the spiritual path, in a humble posture of learning, engaging in individual and collective service for the betterment of the world
Classes for the spiritual education for children in which they develop virtues such as truthfulness, kindness and compassion as well as a deep appreciation for the fundamental unity of the various world religions
Groups that assist young people to navigate a crucial stage of their lives and to withstand the corrosive forces that especially target them
Circles of study wherein the participants reflect on the spiritual nature of existence and build capacity for service to the community and society
Home visits to build strong bonds of friendship, have meaningful conversations or to offer support by praying together

A program that recognizes the power of communities to unify, heal, and transcend differences

Finding those souls longing to shed the lethargy imposed on them by society and work alongside one another in their neighborhoods and villages to begin a process of collective transformation

A process that seeks to raise capacity within a population to take charge of its own spiritual, social and intellectual development where everyone feels empowered to contribute to the betterment of all.

A cyclical pattern of reflection, consultation, planning, and action is put on a systematic basis, so that those involved learn from each cycle and are thus constantly improving their plans of action — an evolving, self-correcting method—what Baha'is call a culture of learning.
A simultaneous worldwide social development program unique in the history of the world.
Note: You do not have to be a Baha'i to get involved—it is open to all. In fact, in some areas the majority of those participating are not Baha'is.
---
For a deeper dive read on. For inspiration view some of the videos below. (all blue text are links)
The process seeks to foster collaboration and build capacity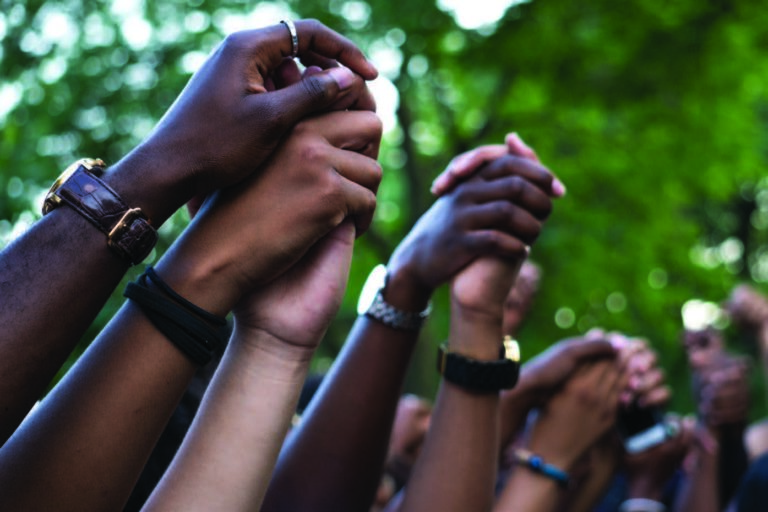 This pattern of community life is giving rise to vibrant and purposeful new communities wherein relationships are founded on the oneness of mankind, universal participation, justice, and freedom from prejudice. All are welcome. The process which is unfolding seeks to foster collaboration and build capacity within every human group—with no regard to class or religious background, with no concern for ethnicity or race, and irrespective of gender or social status—to arise and contribute to the advancement of civilization. Universal House of Justice 27 December 2017
Ideals require the force of spiritual commitment to cement them
Principles set out by Bahá'u'lláh for the upliftment and progress of society and for ending systems of domination and exclusion have come to be widely accepted. Consider His teaching that humanity is one people, or that women are equal with men, or that education must be universal, or that rational investigation of the truth must prevail over fanciful theories and prejudices. Across all nations, a large segment of the world's people now agrees with these fundamental values.
Nevertheless, arguments against these values, previously confined to the margins of serious thought, are also resurgent in society—a reminder that ideals require the force of spiritual commitment to cement them. For it is one thing to acknowledge something in principle; it is quite another to embrace it with all of one's heart, and harder still to refashion society in ways that give collective expression to it. Yet this is the aim of communities emerging across the globe that are patterned on Bahá'u'lláh's teachings. Universal House of Justice – letter October 2019
Developing Qualities for Service
What human characteristics and values are building blocks for a stable social order?
They emphasize qualities and attitudes—such as trustworthiness, cooperation, and forbearance—that are building blocks of a stable social order… They advocate tolerance and understanding, and with the inherent oneness of humanity uppermost in their minds, they view everyone as a potential partner to collaborate with, and they strive to foster fellow feeling even among groups who may traditionally have been hostile to one another. Universal House of Justice – letter 30 December 2021
Promoting Inclusivity, Understanding and Detachment through Consultation
How do we navigate a pathway to decision making through inclusivity, understanding and detachment?
They are loyal citizens who eschew partisanship and the contest for worldly power. Instead, they are focused on transcending differences, harmonizing perspectives, and promoting the use of consultation for making decisions. Universal House of Justice – letter 30 December 2021
Contributing to social transformation
In what ways are the community-building endeavours helping to raise consciousness and overcome the social, economic and cultural barriers impeding spiritual and material progress?
The enkindled souls being raised up through the processes of the Plan are seeking to gain an ever more profound understanding of Bahá'u'lláh's teachings—"the sovereign remedy for every disease"—and to apply them to the needs of their society. They are committed to the prosperity of all, recognizing that the welfare of individuals rests in the welfare of society at large…They champion rationality and science as essential for human progress. …They are conscious of how the forces of materialism are at work around them, and their eyes are wide open to the many injustices that persist in the world, yet they are equally clear sighted about the creative power of unity and humanity's capacity for altruism. They see the power that true religion possesses to transform hearts and overcome distrust, and so, with confidence in what the future holds, they labour to cultivate the conditions in which progress can occur. Universal House of Justice – letter 30 December 2021
A letter from the National Spiritual Assembly of the Baha'is of the United States – February 2017
The tensions, divisions, and injustices that currently beset America are symptoms of a longstanding illness. The nation is afflicted with a deep spiritual disorder, manifest in rampant materialism, widespread moral decay, and a deeply ingrained racial prejudice. As a result, millions of our fellow Americans, subject to systemic injustices in many facets of life, are prevented from making their full contributions to society and of partaking fully in its benefits. No one is immune to this disorder―we are all members of this society and to some degree suffer the effects of its maladies. That we live in a critical time can be seen in the way essential questions of identity, social vision, and global relations are being raised to a degree not seen in decades. Increasing numbers of our fellow-citizens are actively in search of solutions both moral and practical to answer them…The resolution to these challenges lies in recognizing and embracing the truth at the heart of Bahá'u'lláh's Revelation―the incontrovertible truth that humanity is one. Ignorance of this truth―which embodies the very spirit of the Age―is itself a form of oppression, for without it, it is impossible to build a truly just and peaceful world.
For an even deeper dive:
Despite the achievements of the human race over the past century, ignorance, prejudice, oppression, and injustice continue to define humanity's collective experience, affecting virtually every land and population on earth. Drawing on the Bahá'í teachings and the experience of the Bahá'í community, historically and today, these articles, which span nearly a century, reflect the continuity of the Bahá'í endeavor to realize justice and unity and the evolution of Bahá'í thought over the course of time.
---
For Inspiration:
A collection of videos illustrating how local communities in urban and rural settings in the United States and around the world translate Baha'u'llah's vision for humanity into action transforming the life of their communities. (links in blue)
A Rich Tapestry – Building vibrant communities across racial and cultural divides. A video storytelling series that expresses and illustrates how love is being translated into action to address questions of race and culture in the United States and a Navajo Indian Reservation. Bridging the Culture Gap for Immigrants in America
Welcome to the DC Baha'i Community  – In 1910 the DC community became the first integrated Baha'i Community in the US. This video captures some of the work done towards race amity both in the past and in the present. It also has a nice segment of two youth talking about their role as animators for a Junior Youth Spiritual Empowerment Program which is a vital part of the Baha'i community development program. (For Youth Animators role in facilitating the Junior Youth Program begin at minute 8:10)
Frontiers of Learning – Young and old, in cities and villages around the world, are taking part in a process of community building based on concepts enshrined in the Bahá'í Teachings.  These uplifting films capture the insights and experiences of children, junior youth, youth, and adults—in Colombia, India, and the Democratic Republic of the Congo —whose efforts to build vibrant communities are at the frontiers of learning.
Light to the World – This film (below left) takes you to villages and places around the globe as the people share how their encounter with the Revelation of Baha'u'llah has transformed the life of their communities by bringing about resilience, equality and unity. Vignettes on the life of Baha'u'llah are interspersed throughout. (51:23)
Dawn of the Light  – This film (below right) follows the personal search for truth and meaning undertaken by eight people from diverse backgrounds (South Side Chicago, Nepal, Northern Ireland, Tajikistan, Zambia, Chile, an Iraqi living in Austria, New Zealand) and their discovery of Twin Divine Luminaries, the Báb and Bahá'u'lláh, Whose Divine Revelations are a source of transformation and empowerment for individuals and communities throughout the world. (48:07)
Glimpses of a Hundred Years of Endeavour: (below left) In 1921, at the time of the passing of 'Abdu'l-Bahá, a relatively small Bahá'í community, though grieving, looked to the future with faith and courage, focused on the instructions that had been left by Him, the Centre of Bahá'u'lláh's Covenant. 'Abdu'l-Bahá had provided clear guidance for how the Bahá'í community was to grow, develop and increasingly serve humanity. Since that time, the followers of Bahá'u'lláh have been striving, with unimaginable sacrifice, to implement that guidance, reaching the farthest corners of the globe. This film provides glimpses into a hundred years of endeavour and learning, carried out by a burgeoning Bahá'í community, and outlines the journey that has led to the community's current efforts to contribute to the emergence of a world based on the principle of the oneness of humanity.
Exemplar (below right) One hundred years ago, 'Abdu'l-Bahá, the son of Bahá'u'lláh and the perfect example of His teachings, passed from this world. Exemplar follows the life of 'Abdu'l-Bahá and the profound effect He had on people both past and present. A sense of 'Abdu'l-Bahá's unique function as a shelter, a shield, a stronghold for all humanity is captured in vignettes of some of the souls whose lives were transformed for the betterment of society through their association with Him. The film reflects a few of the universal principles embodied, both in word and deed, by 'Abdu'l-Bahá—principles that animate a global movement of individuals, communities and institutions striving to emulate His example in service to humanity.
These conferences are dedicated to 'Abdu'l-Baha ~ Champion of Justice ~ Ambassador of Peace ~ Advocate for Racial Unity & the Equality of Women & Men ~ Personification of Humanitarianism
During 'Abdu'l-Baha's eight month journey across America in 1912 He challenged America to go beyond tolerance, to embrace diversity completely, and to demolish racial barriers in law, education and even marriage. "The time has come for humanity to hoist the standard of the oneness of the human world, so that dogmatic formulas and superstitions may end." (quoted in NY Times 1912) In his talks 'Abdu'l-Baha recast racial differences as a source of beauty. "The world of humanity…is like a garden, and humankind are like the many-colored flowers." He offered an ennobling metaphor of people of African descent which He attributed to Baha'u'llah, "Thou art like unto the pupil of the eye which is dark in color, yet it is the fount of light and the revealer of the contingent world." 'Abdu'l-Bahá demanded that segregation and any form of prejudice be abolished in the community, and an increasing number of believers took the risks involved in living their beliefs without heeding their society's mores. 'Abdu'l-Baha's Race Unity Work in America – 1912
Towards Oneness (below left) – Dr. Cornel West praises the Baha'i Faith, one of the first religious groups to really hit racism and white supremacy head on, decades ago and remain consistent about it.
The Roots of the Race Amity Movement (below right) – May 1921, the nation's capital played host to a multi-racial interfaith gathering the likes of which had rarely been seen in the segregated south. This gathering was organized by the Baha'is at the behest of 'Abdu'l-Baha. Over two thousand people attended half black and half white.