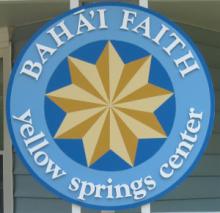 Baha'i Center, 502 Dayton St. Yellow Springs, Ohio 45387
Who is Bahá'u'lláh? | Baha'i Writings: Oneness/Unity in Diversity/Elimination of Prejudice | Baha'i Writings on Justice | Baha'i Statements on Global Issues | Equality of Women & Men | Abdu'l-Baha's Call for Race Unity in America – 1912
Ohio Baha'i Host Community
Welcome to the Yellow Springs Baha'i community website. We are once again hosting in person meetings at the Baha'i Center. For the date of our monthly Devotionals see; Events Calendar. We highly recommend viewing the beautifully filmed documentaries linked below. Told in the voices of diverse people around the world, from remote villages to large cities, sharing their experience of the transformative power of the Revelation of Bahá'u'lláh to bring about resilience, equity, equality and unity to their communities. There is much here to explore. We hope you enjoy your visit. (More Ohio Baha'i Communities)
Prayers for Guidance, Protection & Spiritual Resilience During These Days of Endurance
Prayers with Musical Renditions: This collection of prayers, from the Baha'i Holy Writing, were created during the pandemic that perchance they might offer a source of comfort and spiritual resilience during the apprehensive times we were called to endure. (Guidance, Protection, Spiritual Resilience, Freedom from Anxiety, Healing, Children, Humanity etc.) They are just appropriate for now as they were then.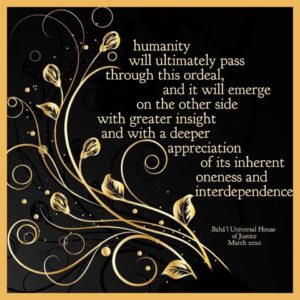 "Be anxiously concerned with the needs of the age ye live in, and center your deliberations on its exigencies and requirements." ~ Baha'u'llah
Baha'is reflect on the current global crisis:
Forging A Path Toward Racial Justice article
The Coronavirus Pandemic: Stepping Stone, or Stumbling Block? video
A Principled Approach to Solving Global Challenges video
Collective Threats Require a New System of Global Governance video
Blog: A Whole New World: 7 Virtues for the Great Reset article
Building a World Federation: The Key to Solving Our Global Crises video
Can Global Crisis Lead to Global Unity article
Reflections on the Coronavirus and the Oneness of Humanity article
Will It Take a Pandemic to Make the World Economy Human article
Income Disparity In a Time of Global Crisis article (additional videos)
Programs that Nurture Spiritual Growth, Virtue Development, Amity and Unity
The Baha'is of Yellow Springs invite you to join with us in our efforts to strengthen the foundation of society through programs that nurture spiritual growth and virtue development, foster amity and unity, and lead to joyful, purpose-oriented lives. These programs focus on transformation, empowerment and service. People of all ages and backgrounds are invited to participate. We offer programs for children, junior-youth, youth and adults. These programs offer a world-embracing vision of the oneness of God, of religion, and of humanity. As this vision grows, it is our hope that participants will develop a love for humankind, an appreciation for diversity, and a desire to serve the world. Programs for Spiritual Growth These programs are inspired by the sacred writings of Bahá'u'lláh, Prophet-Founder of the Baha'i Faith.
"This is worship: to serve mankind and to minister to the needs of the people." ~ 'Abdu'l-Bahá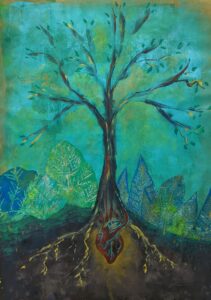 Locally Created Initiatives:
INTER-FAITH & NEIGHBORHOOD COMMUNITY DEVELOPMENT PROGRAMS
Vitalizing Our Virtues – a virtue development support group for adults created by Baha'is in Yellow Springs. We will offer our support for you to start your own group among neighbors or friends or connect you with others. We currently have a woman's group that has been meeting for five years and one neighborhood group. (Includes an Interfaith Devotional with a focus on virtues.)
Community Reflections on Racial Harmony and Justice a neighborhood initiative to host a simple series of inter-faith community reflection gatherings to elevate our conversations about the imperatives of unity and justice. The beginnings of this effort occurred in 2015 in the aftermath of the John Crawford shooting. What efforts could be mounted to build commitment to a unified community with justice, security, dignity and liberty for all? See supporting documents. Contact us for support.
PROGRAMS FOR CHILDREN
Summer Virtue Day Camps for Children ages 7-10. Campers will learn that the shining virtues of the human soul are the key to unity, happiness and success in their personal lives and in the world. Mining the Gems of Virtues in Our Children by Linden Qualls.
The Refuge  – A special environment has been created at our Baha'i Center by those who were locally involved in the Refuge Research Collaborative. Here is a quick look into our Approach & Discoveries for the spiritual education of children.
Feature Films:
During the month of October of 2017 and 2019, the Baha'is in Yellow Springs, Greene & Clark Counties, along with some 100,000 localities around the world celebrated the Bicentenaries of the Birth of Bahá'u'lláh and the Birth of the Báb respectively. The documentaries below were produced in celebration of these Twin Divine Luminaries, whose lives and missions are so closely interwoven. The echoes of Their divine teachings of love and unity reverberate around the globe, rescuing the world from the fetters of prejudice and the dictates of self and bringing hope and joy to the hearts of people everywhere.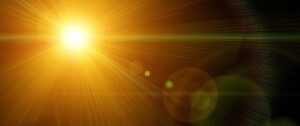 "For every age requireth a fresh measure of the light of God. Every Divine Revelation hath been sent down in a manner that befitted the circumstances of the age in which it hath appeared." ~Bahá'u'lláh
We invite you to view films here:
Dawn of the Light This film follows the personal search for truth and meaning undertaken by eight people from diverse backgrounds (South Side Chicago, Nepal, Northern Ireland, Tajikistan, Zambia, Chile, an Iraqi living in Austria, New Zealand) and their discovery of Twin Divine Luminaries, the Báb and Bahá'u'lláh, Whose Divine Revelations are a source of transformation and empowerment for individuals and communities throughout the world. Their journey is explored against the backdrop of the remarkable life of the Báb and Bahá'u'lláh.
Light to the World This film takes you to villages and places around the globe as the people share how their encounter with the Revelation of Baha'u'llah has transformed the life of their communities by bringing about resilience, equality and unity. Vignettes on the life of Baha'u'llah are interspersed throughout.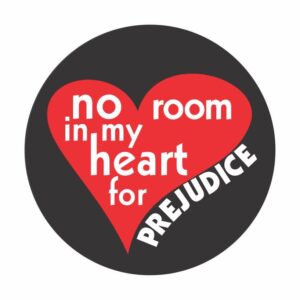 Some former Yellow Springs Street Fair and Juneteenth Offerings – Sustainable Development | World Citizenship | Elimination of Prejudice
World Citizenship: An Ethical Foundation for Sustainable Development For several years we had an environmental themed booth at the Yellow Springs Street Fair. Passerby would often stop to participate in our World Citizen activity by making a commitment to reduce their carbon footprint and take the World Pledge. More Photos
Our Heart of Humanity Gardening Game is about removing rocks of prejudice (negative attitudes) from the garden of humanities heart. One must first decide which seeds (virtue) to plant that will push that negative attitude out of the heart. Remove a rock of prejudice by planting the seeds of a virtue. Receive a sticker: "No Room In My Heart For Prejudice".
Baha'i Writings on Elimination of Prejudice | Forging a Path Toward Racial Justice – a message from the Baha'is of the United States, June 2020 | Abdu'l-Baha's Radical Approach to Race Unity – 1912 | Race Unity in America: an Oral History | A Vision of Race Unity America's Most Challenging Issue – 1991