Stories of Baha'u'llah | Prayers for Youth | Prayers for Humanity | Prayers for Healing | Prayers for the Departed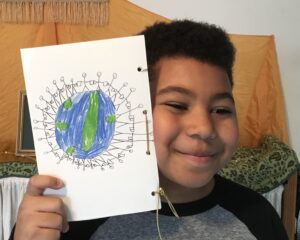 O God, guide me, protect me, make of me a shining lamp and a brilliant star. Thou art the Mighty and the Powerful. ~ 'Abdu'l-Bahá
O God, Guide Me /Children singing
(The following is an older translation of this prayer.)
O God, guide me, protect me, illumine the lamp of my heart, and make me a brilliant star. Thou art the Might and the Powerful. ~ 'Abdu'l-Baha
He is God! O God my God! Bestow upon me a pure heart, like unto a pearl. ~ 'Abdu'l-Bahá
A Calming Meditation
O God, My God, My Beloved, My Heart's Desire. ~ The Báb
(Repeat over and over again.)
O God! Educate these children. These children are the plants of Thine orchard, the flowers of Thy meadow, the roses of Thy garden. Let Thy rain fall upon them; let the Sun of Reality shine upon them with Thy love. Let Thy breeze refresh them in order that they may be trained, grow and develop, and appear in the utmost beauty. Thou art the Giver. Thou art the Compassionate. ~ 'Abdu'l-Bahá
O God! Educate These Children / Happy 'Ayyam-i-Ha Album
O Thou kind Lord! These lovely children are the handiwork of the fingers of Thy might and the wondrous signs of Thy greatness. O God! Protect these children, graciously assist them to be educated and enable them to render service to the world of humanity. O God! These children are pearls, cause them to be nurtured within the shell of Thy loving-kindness. Thou art the Bountiful, the All-Loving.~ 'Abdu'l-Bahá
O Thou kind Lord! I am a little child, exalt me by admitting me to the kingdom. I am earthly, make me heavenly; I am of the world below, let me belong to the realm above; gloomy, suffer me to become radiant; material, make me spiritual, and grant that I may manifest Thine infinite bounties.
Thou art the Powerful, the All-Loving. ~ 'Abdu'l-Bahá
O Thou Kind Lord /Ruhi class video | O Thou Kind Lord New Era School children
O my God! O my God! Unite the hearts of Thy servants, and reveal to them Thy great purpose. May they follow Thy commandments and abide in Thy law. Help them, O God, in their endeavor, and grant them strength to serve Thee. O God! Leave them not to themselves, but guide their steps by the light of Thy knowledge, and cheer their hearts by Thy love. Verily, Thou art their Helper and their Lord. ~ Bahá'u'lláh
Unite the Hearts of Thy Servants / S.Simmons & Ayana Williams
I am, O my God, but a tiny seed which Thou hast sown in the soil of Thy love, and caused to spring forth by the hand of Thy bounty. This seed craveth, therefore, in its inmost being, for the waters of Thy mercy and the living fountain of Thy grace. Send down upon it, from the heaven of Thy loving-kindness, that which will enable it to flourish beneath Thy shadow and within the borders of Thy court. Thou art He Who watereth the hearts of all that have recognized Thee from Thy plenteous stream and the fountain of Thy living waters.
Praised be God, the Lord of the worlds. ~ Bahá'u'lláh
Tiny Seed / Victoria & Willow | Tiny Seed /Nabil & Karim
O Thou kind Lord! Bestow heavenly confirmation upon this daughter of the kingdom, and graciously aid her that she may remain firm and steadfast in Thy Cause and that she may, even as a nightingale of the rose garden of mysteries, warble melodies in the Abhá Kingdom in the most wondrous tones, thereby bringing happiness to everyone. Make her exalted among the daughters of the kingdom and enable her to attain life eternal.
Thou art the Bestower, the All-Loving. ~ 'Abdu'l-Bahá
Bestow Heavenly Confirmation /Nabil