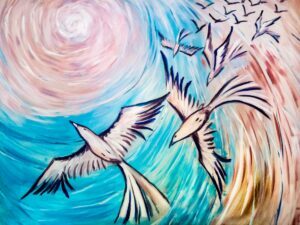 Programs that Nurture Spiritual Growth, Virtue Development, Amity and Unity
The Baha'is of Yellow Springs invite you to join with us in our efforts to strengthen the foundation of society through programs that nurture spiritual growth and virtue development, foster amity and unity, and lead to joyful, purpose-oriented lives. These programs focus on transformation, empowerment and service. People of all ages and backgrounds are invited to participate. We offer programs for children, junior-youth, youth and adults. These programs offer a world-embracing vision of the oneness of God, of religion, and of humanity. As this vision grows, it is our hope that participants will develop a love for humankind, an appreciation for diversity, and a desire to serve the world. These programs are inspired by the sacred writings of Bahá'u'lláh, Prophet-Founder of the Baha'i Faith.
Drawing on the revitalizing power of the Word of God, devotionals offer an opportunity to rejuvenate one's soul, gladden hearts, and renew one's sense of purpose. Communal worship can magnify our experience with the Divine, awaken spiritual susceptibilities, create bonds of love and unity, and engender an atmosphere of free and open discussion on matters of import to the life of each individual.
The Baha'is of Yellow Springs host a community devotional once monthly on Sunday at 11:00 am at the Baha'i Center. Our devotionals consist of reading of Sacred Scriptures, prayer, music, fellowship, and refreshments. There is no established ritual and no request for funds.
All are welcome! See Events Calendar page, ask to be added to our email list, or look in the Yellow Springs News: Religious Announcements for the date.
Vitalizing Our Virtues – a virtue development support group for adults created by Baha'is in Yellow Springs. We will offer our support for you to start your own group among neighbors or friends.  (Includes an interfaith devotional with a focus on virtues.)
Home Visits: Devotion and Discussion
This is for those who wish to have a heart to heart talk, want someone to pray with, or perhaps would like to know more about the Baha'i Faith. We have no clergy in the Baha'i Faith, so as each of us learns to minister to the needs of our neighbors it in turn enhances our own spiritual growth. Please invite us as we will be most happy to come, or you have the option of coming to one of our homes as well. (contact)
Study Circles, Classes & Camps: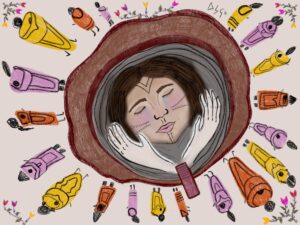 The Refuge  ages 4-up
Listen to our inner voice
Explore spiritual concepts
Discover the awe and wonder of creation
Summer Virtues Day Camp ages 6-11
Create a spiritual identity
Understanding why we should develop and grow our inner beauty, our virtues
Provide opportunities to practice virtues
Junior-Youth Group ages 12-14
Discuss spiritual and ethical issues
Develop a strong sense of purpose
Decide how to contribute to society
Take charge of your personal spiritual growth
Be empowered to be a force for positive change
Collaborate in acts of service
Baha'i Online Study Courses Baha'i Chronicles (free courses) | Wilmette Institute
Frontiers of Learning
Young and old, in cities and villages around the world, are taking part in a process of community building based on concepts enshrined in the Baha'i Teachings. The uplifting film captures the insights and experiences of children, junior youth, youth, and adults—in Canada, Colombia, the Democratic Republic of the Congo, and India —whose efforts to build vibrant communities are at the frontiers of learning.