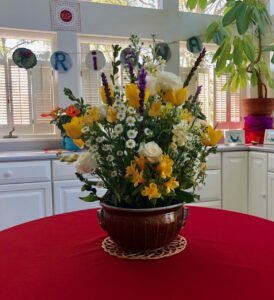 Baha'i Holy Days | About Devotionals | Programs | Prayers | Who is Bahá'u'lláh?
All Activity Suspended at the Baha'i Center Until Further Notice. We will have Zoom Devotionals and Discussions instead.
Once monthly we host a community devotional on Sunday at 11:00 A.M. at the Baha'i Center. Various community members offer to host devotionals and holy days as a service to the community. If you would like to be informed by email write to: ysbahai@gmail.com to join our email list. All are welcome!
December 13, Sunday, 11:00 Devotional (Host:Susan Tower) An Instrument of Justice – Consultation Selected Writings Theme: No man can attain his true station except through his justice. No power can exist except through unity. No welfare and no well-being can be attained except through consultation. ~ Baha'u'llah
January 10, Sunday, 11:00 Devotional on Truthfulness (Hosts:Nadia & Jim Malarkey) Most regard "truthfulness" a virtue, and ideal- vital for peace and justice. How can we cultivate and promote it in our "post-truth" world?
February 14, Sunday, 11:00 Devotional (Keith & Elaine Kresge will be our host.)
The Baha'i Writings state: Love is the most great law that ruleth this mighty and heavenly cycle, the unique power that bindeth together the divers elements of this material world, the supreme magnetic force that directeth the movements of the spheres in the celestial realms. ~ 'Abdu'l-Baha
March 14, Sunday 11:00 Zoom Devotional (Jim Malarkey) "Overcoming Resentment and Remorse" will offer participants a chance to meditate on such painful unresolved feelings with the insight and grace of spiritual guidance gleaned from the Baha'i Writings and other spiritual traditions.
March 20, Saturday, 5:00 Naw-Rúz (New Year) celebration – Artistic Presentations, Readings, Prayers, Stories and Fellowship
The Divine Springtime is come, O Most Exalted Pen, for the Festival of the All-Merciful is fast approaching. Bestir thyself, and magnify, before the entire creation, the name of God, and celebrate His praise, in such wise that all created things may be regenerated and made new. Baha'u'llah
April 9, Friday 7:30 PM "Elevated" Conversations – `Abdu'l-Bahá's Visit to North America, 1912: What it Teaches Us. Hosted by Dr. Robert Stockman of the Wilmette Institute
April 11, Sunday, 11:00 Zoom Devotional – Managing Transitions: Taking a closer look with a spiritual eye at how we view, cope with and move towards acceptance of life's many changes. Kim Kremer will be our host.
May 9, Sunday 11:00 Devotional/Discussion – Selected Writings This Mother's Day devotional will focus on the role that the Equality of Women and Men plays in bringing about Peace. A theme from the many talks given by Abdu'l-Baha during his eight month travels across North America in 1912. (Host: Susan Tower) Join Zoom Devotional Meeting ID: 879 6904 8641 Passcode: 026969 Find local number To read about Abdu'l-Baha's travels in America see 239 Days In America This year the Baha'is around the world are commemorating the Centenary of the Passing of Abdu'l-Baha*.
*Abdu'l-Baha (1844-1921), eldest son of Baha'u'llah and His chosen successor, was known as an ambassador of peace, a champion of justice, and the leading exponent of a new Faith. Through a series of epoch-making travels to Africa, North America and Europe,`Abdu'l-Bahá–by word and example–proclaimed with persuasiveness and force the essential principles of His Father's religion. Upon His death ten thousand people–Jews, Christians, and Muslims from all denominations–gathered on Mount Carmel in the Holy Land to mourn his passing. Today He is embraced by more than 5 million Baha'is as the perfect Exemplar of what it means to be a Baha'i.