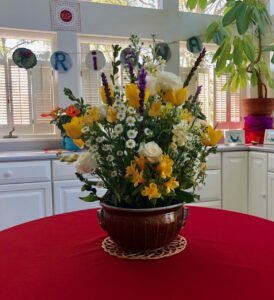 Baha'i Holy Days | About Devotionals | Programs | Prayers | Who is Bahá'u'lláh?
All events are held at the Baha'i Center located at 502 Dayton Street in Yellow Springs unless otherwise noted. For other localities see Miami Valley Baha'is or Ohio Baha'i Communities
For more information go to Yellow Springs Baha'i Community or call 937-767-7079.
Once monthly we host a community devotional on Sunday at 11:00 A.M. at the Baha'i Center. Various community members offer to host devotionals and holy days as a service to the community. If you would like to be informed by email write to: ysbahai@gmail.com to join our email list. All are welcome! The Baha'i Center is located at 502 Dayton St. in Yellow Springs. (Blue house at the corner of N. High & Dayton St.)
Black History in the Baha'i Faith:
Abdu'l-Baha's* Race Amity Work in America in 1912 – 1921 and the Black Intelligentsia who took notice –  List of Topics  – Schedule Your Personal Story Hour or a Group Presentation  – Call 937-207-2486 or email ysbahai@gmail.com
Calendar of Events
July 10, Monday, 1:00 P.M. Holy Day commemoration Martyrdom of the Bab
July 16, Sunday 11:00 A.M. Devotional at the Baha'i Center
August 13, Sunday 11:00 A.M. Devotional at the Baha'i Center – We will reflect on Inner Peace as we read selections from the Sacred Scriptures of the world's religions. This is part of a Vitalizing Our Virtues series. If you would like to host your own virtue development support group contact us at ysbahai@gmail.com.
September 10, Sunday, 11:00 Devotional – The Soul (Cyprian Sajabi)
October 8, Sunday, 11:00 Devotional (Keith & Elaine Kresge)
November 12, Sunday, 11:00 Devotional (Willetta Peavy)
__________________________________________________________________
The Passing of Kevin Edward Locke (Lakota name: Tȟokéya Inážiŋ, meaning "The First to Arise"; June 23, 1954 – September 30, 2022) was of Lakota descent of the Standing Rock Sioux Tribe and Anishinaabe of White Earth. He was a preeminent player of the Native American flute, a traditional storyteller, cultural ambassador, recording artist and educator. He was best-known for his hoop dance, The Hoop of Life.
Note: Kevin has performed in Yellow Springs throughout the years. Kevin Locke was scheduled to come to the Dayton/Springfield/Cincinnati the first week of October. He passed on to the next world on September 30, 2022. We share this video with you so that you can appreciate the artistry of this wonderful human being and the message of the Oneness of Humanity he shared with the peoples of the world.
*Abdu'l-Baha (1844-1921), eldest son of Baha'u'llah and His chosen successor, was known as an ambassador of peace, a champion of justice, an advocate for race amity and equality and the leading exponent of a new Faith. Through a series of epoch-making travels to Africa, North America and Europe,`Abdu'l-Bahá–by word and example–proclaimed with persuasiveness and force the essential principles of His Father's religion. Upon His death ten thousand people–Jews, Christians, and Muslims from all denominations–gathered on Mount Carmel in the Holy Land to mourn his passing. Today He is embraced by more than 5 million Baha'is as the perfect Exemplar of what it means to be a Baha'i.