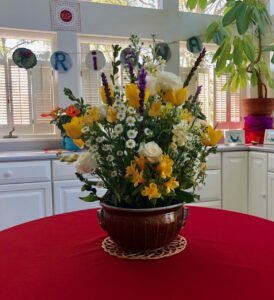 Baha'i Holy Days | About Devotionals | Programs | Prayers | Who is Bahá'u'lláh?
Some events may be held outside at the Baha'i Center and some on Zoom.
For more information go to Yellow Springs Baha'i Community or call 937-767-7079.
Once monthly we host a community devotional on Sunday at 11:00 A.M. at the Baha'i Center. Various community members offer to host devotionals and holy days as a service to the community. If you would like to be informed by email write to: ysbahai@gmail.com to join our email list. All are welcome! The Baha'i Center is located at 502 Dayton St. in Yellow Springs. (Blue house at the corner of N. High & Dayton St.)
September 10, Friday 7:30 'Abdu'l-Bahá: Champion of Race Unity will be presented by Dr. Gwen Etter-Lewis*
Join Zoom Meeting Meeting ID: 857 7819 2038 Passcode: 366813 sponsored by the Columbus Baha'i Community
*Gwendolyn Etter-Lewis, Ph.D. is professor of English and former director of the Linguistics Program at Miami University, Oxford, Ohio.
September 19, Sunday 11:00 Devotional on Patience – outside at the Baha'i Center hosted by Keith & Elaine Kresge.
October 2, Saturday 1:30 – 2:30 Wheeling Gaunt Bronze Sculpture Unveiling Ceremony at Gaunt Plaza, Hilda Rahn Park by the Train Station. Rain date is October 3rd.
October 7, Thursday 11:00 Devotional – Tower front porch
October 9, Saturday 12:30 – 2:00 Divine Teachers of the Americas | Kevin Locke Go to link to register on Zoom sponsored by Green Acre Baha'i Center of Learning
October 10, Sunday 11:00 Zoom Devotional on Empathy hosted by Kim Kremer. Zoom link
Meeting ID: 812 1300 5231
 Passcode: 877997 
One tap mobile
+13126266799,,81213005231#,,,,*877997# US (Chicago)
+19294362866,,81213005231#,,,,*877997# US (New York)

November 14, Sunday 11:00 Devotional
December 12, Sunday 11:00 Devotional
*Abdu'l-Baha (1844-1921), eldest son of Baha'u'llah and His chosen successor, was known as an ambassador of peace, a champion of justice, and the leading exponent of a new Faith. Through a series of epoch-making travels to Africa, North America and Europe,`Abdu'l-Bahá–by word and example–proclaimed with persuasiveness and force the essential principles of His Father's religion. Upon His death ten thousand people–Jews, Christians, and Muslims from all denominations–gathered on Mount Carmel in the Holy Land to mourn his passing. Today He is embraced by more than 5 million Baha'is as the perfect Exemplar of what it means to be a Baha'i.