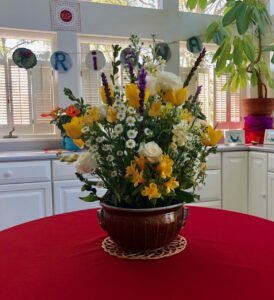 Baha'i Holy Days | About Devotionals | Programs | Prayers | Who is Bahá'u'lláh?
Some events may be held outside at the Baha'i Center and some on Zoom.
For more information go to Yellow Springs Baha'i Community or call 937-767-7079.
Once monthly we host a community devotional on Sunday at 11:00 A.M. at the Baha'i Center. Various community members offer to host devotionals and holy days as a service to the community. If you would like to be informed by email write to: ysbahai@gmail.com to join our email list. All are welcome! The Baha'i Center is located at 502 Dayton St. in Yellow Springs. (Blue house at the corner of N. High & Dayton St.)
Abdu'l-Baha's* Race Amity Work in America in 1912 – 1921 and the Black Intelligentsia who took notice –  List of Topics  – Schedule Your Personal Story Hour or a Group Presentation  – Call 937-207-2486 or email ysbahai@gmail.com
January 16, Sunday 11:00 Zoom Devotional – "Fostering Empathy" Kim Kremer will be our host.
February 13, Sunday 11:00 Devotional – Happiness & Joy hosted by Keith & Elaine Kresge
March 13, Sunday 11:00 Devotional/Discussion –  During this year of remembrance of 'Abdu'l-Baha, the Centenary of His Passing, we will look at His talks in America of 1912 and the influence He had on the Black intelligentsia of that era including W.E.B. Du Bois and Alain Locke. Unprecedented, W. E. B. Du Bois devoted almost the entire body of the May  "Men of the Month" column of The Crisis to Abdu'l-Baha. One of  'Abdu'l-Baha's talks at the Fourth Annual NAACP conference was printed in the June issue of The Crisis.  Program with links to articles about Black history within the Baha'i Faith
April 10, Sunday 11:00 Film showing "Exemplar" at the Baha'i Center. (55 minutes) As we come to the close of this year in remembrance, commemorating the centenary of the passing of 'Abdu'l-Bahá, the Baha'is of Yellow Springs invite you to a screening of a film Exemplar, The film follows the life of 'Abdu'l-Bahá and the profound effect He had on people both past and present. A sense of 'Abdu'l-Bahá's unique function as a shelter, a shield, and a stronghold for all humanity is captured in vignettes of some of the people whose lives were transformed through their association with Him. Mask will be required.
April 21, Thursday 4:00 First Day of Ridvan Celebration
April 29, Friday 7:30 Ninth Day of Ridvan Celebration –
May 2, Monday 7:30 Twelfth Day of Ridvan Celebration – Campfire at Baha'i Center – Bring your own food & drinks – marshmallows, graham crackers and chocolate provided
May 14, Saturday 9:30 – 5:30 Conference: Cultivating a Culture of Peace for the Betterment of the World  –Herndon Gallery, Antioch College –  Open to all. See ohiobahai.org for more information.
May 15, Sunday 10:30 Devotional / Discussion –  Virtues are the basis of genuine happiness, the elements of the human spirit, the truest expression of our souls. We will look at the writings of the world's religions on the importance of developing the virtues latent within us. The Baha'i Center is located at 502 Dayton St.
May 23, Monday evening Declaration of the Bab
June 12, Sunday 11:00 Devotional
July 10, Sunday (1:00) Commemoration of the Martyrdom of the Bab
July 17, Sunday 11:00 Devotional
*Abdu'l-Baha (1844-1921), eldest son of Baha'u'llah and His chosen successor, was known as an ambassador of peace, a champion of justice, an advocate for race amity and equality and the leading exponent of a new Faith. Through a series of epoch-making travels to Africa, North America and Europe,`Abdu'l-Bahá–by word and example–proclaimed with persuasiveness and force the essential principles of His Father's religion. Upon His death ten thousand people–Jews, Christians, and Muslims from all denominations–gathered on Mount Carmel in the Holy Land to mourn his passing. Today He is embraced by more than 5 million Baha'is as the perfect Exemplar of what it means to be a Baha'i.