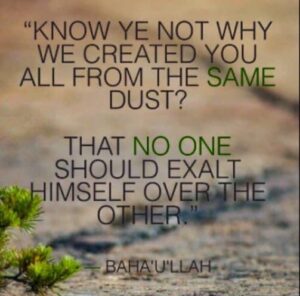 Oneness/Unity/Diversity/Prejudice | Racism: America's Most Challenging Issue | 'Abdu'l-Baha's Call for Race Unity in America – 1912. | Baha'i Writings on Justice | 31 Additional Resources Related to Racism
Universal Emancipation Proclamation Over 70 articles about Early Black Baha'is Alain Locke, Louis Gregory, George Henderson, Coralie Cook, Robert Turner, Pocahontas Pope, Charles Tinsley, Dana A. Dorsey, Major Alfred Goggins, Robert Abbott, Robert Hayden
Early Black Baha'is and Race Amity Articles
Documentary: 'Abdu'l-Baha's Initiative on Race from 1921: Race Amity Conferences This important video documents 'Abdu'l-Baha's efforts in establishing racial justice and race unity in America in the early 1900s, when the subject was seldom discussed in the U.S. and few had the courage to speak about it publicly. To that end, he instructed that Race Amity Conferences be held to encourage black and white Americans to collaborate with each other and gradually break down the social barriers that prevailed in the U.S. at that time.
Spatial Strategies for Racial Unity by June Manning Thomas – The Baha'i World Sept.17, 2020
The Bahá'í Response to Racial Injustice and Pursuit of Racial Unity Part 1 (1912-1996) by Richard Thomas
Louis G. Gregory (1874-1951) African American lawyer who became a leading Bahá'í speaker, writer, administrator, and proponent of race unity and equality; first person of sub-Saharan African descent to be elected to the national governing body of the Bahá'ís of the United States and Canada, and first to be appointed a Hand of the Cause of God. ~ The Baha'i Encyclopedia Project
Alain Locke (1985-1954) One of the Bahá'í Faith's most notable African American adherents in 1918. (the first African American Rhodes Scholar (1907) and acknowledged "Dean" of the Harlem Renaissance)
Race Unity in America: an Oral History the Baha'i community & the struggle for race unity in the US from 1912 to now.
Specific Guidelines for Overcoming Racism: What Whites Must Do and What Blacks Must Do from the Baha'i Authoritative Text.
The Spiritual Dimensions of Racial Reconciliation: a short talk given by Tod Ewing, a member of the local administrative body of the Baha'is of DC, speaks on the personal challenges of putting your Faith into action and moving from otherness to oneness.
A Vision of Race Unity Website:
For an account of the dedication to Race Unity of the Baha'i community and it's institutions since the time of 'Abdu'l-Baha and an overview of the important and central role Black Americans have historically played in the development of the American Baha'i community.
A statement from this site:
Privileging of Black/White Aspect of Race Unity:
Obviously the issues of racial prejudice in the US are complex and multi-layered, and not simply "black and white." Baha'u'llah tells us that prejudice in its various forms destroy the edifice of humanity.¹ Shoghi Effendi stated "the main object of the Bahá'í interracial work is to abolish prejudice against any and every race and minority group…"² At the same time he points out that racism against Black people "epitomize the feelings of color prejudice so rife in the United States."³ As the Bahá'í community strives to promote unity and justice amongst all people, our Writings suggest that there is a special importance to the unity between Black and white people which has implications not only for the US, but for the world. This site focuses on the early history of race amity between whites and African Americans in the Faith, however it should be noted that all activities to promote race unity, particularly as the Faith has grown in the US, are inclusive of people from all ethnic and racial backgrounds.
Pupil of the Eye: What the Baha'i Faith Says about Black Folks by Phillipe Copeland, BA University of Massachusetts MSW, Simmons College, MTS (theological studies), Harvard University School of Divinity, Doctor of Philosophy in Social Work, Simmons College
Cornel West Praises Work of Baha'is in Establishing Racial Unity: Watch Video
Dr. Cornel West, a philosopher and Princeton professor of African American Studies and Religion and a staunch defender of rights and freedoms for all people, learned about the Baha'i Faith through his race unity work and befriending Baha'is such as jazz maestro Dizzy Gillespie…Dr. West speaks on the Baha'i perspective of Race Unity, noting the "genuine universalness of the Baha'i Faith" and stating that it is one of the "first religious groups to hit racism and white supremacy head on." "The Baha'i Faith will be one of the leaven in the American loaf that allowed the democratic loaf to expand because of the anti-racist witness of those of the Baha'i Faith," declares West. "A Christian like myself is profoundly humbled before Baha'i brothers and sisters."
Washington D.C. – The First Racially Integrated Baha'i Community in North America – 1910
Houston Bahá'í, Herman Sweatt, paved the way for Brown v. Board of Education Thurgood Marshall called Mr. Sweatt "an ordinary man who had an extraordinary dream to live in a world in which Afro-Americans and Whites alike were afforded equal opportunity to sharpen their minds and to hone their skills. NPR – 'Sweatt V. Painter': Nearly Forgotten, But Landmark Texas Integration Case
First Baha'i College, Henderson Business College, founded by George W. Henderson (1888–1944). In a tablet, dated April 9, 1921, addressed to Louis G. Gregory, Abdu'l-Baha referred to Henderson Business College as a "Baha'i College".
W.E.B. Du Bois and the Bahá'í Faith by Guy Emerson Mount – In 1912, Du Bois published Abdu'l Baha's entire speech from the N.A.A.C.P. conference in the June edition of The Crisis and featured another article and disproportional large picture of him the following month in his "Men of the Month" section. When Abdu'l Baha passed away in 1921, Du Bois wrote in The Crisis, "[t]wo men sit high before the world today—Eugene Debs and Abdul Baha." This article explores the question: Did Du Bois consider himself a Baha'i?
Baha'i Statement against Racism submitted by the Baha'i International Community – April 2009, Geneva, to the Durban Review Conference Against Racism, Racial Discrimination, Xenophobia and Related Intolerance
Baha'i Choral Festival Choir singing the Remover of Difficulties a Baha'i prayer.
The annual Baha'i Choral Festival at the Baha'i House of Worship in Wilmette, Illinois takes place on the last Sunday in May. About 200 singers from around the country and around the world assemble for three days of rehearsals, workshops and performances. The performances are a cappella (without instruments) and include classical liturgical music of the Baha'i Faith and other religions, as well as gospel music and other multicultural selections. The choral concerts are free and open to the public.
The Pupil of the Eye: African Americans in the World Order of Bahá'u'lláh quotations from The Báb, Bahá'u'lláh, Abdu'l-Bahá, and Universal House of Justice compiled by Bonnie J. Taylor
The Baha'i 'Race Amity' Movement and the Black Intelligentsia in Jim Crow America: Alain Locke and Robert S. Abbott Christopher Buck, Pennsylvania State University
Race and Racism: Perspectives from Baha'is Theology and Critical Sociology – Matthew Hughey – Association of Baha'i Studies
'Abdu'l-Baha'i Radical Approach To Race Unity by Jonathan Menon on BAHAITEACHINGS.org
An Oral History 12 Short Stories by Louis Venters, a historian and historic preservationist, with a particular interest in race, religion, and social change in the United States, Louis Venters was born and educated in eastern South Carolina. He is now an associate professor at Francis Marion University and author of No Jim Crow Church: The Origins of South Carolina's Baha'i Community and A History of the Baha'i Faith in South Carolina. (In the early 1970's some 20,000 mostly rural blacks enrolled in the Baha'i Faith in South Carolina.)
The growth of the Baha'i Faith in South Carolina See Section: Fast Growth – By the middle of 1972, some 20,000 people—mostly African Americans, but hundreds of Native Americans and European Americans as well—had become Bahá'ís in South Carolina.… [with] fully one-third of the national community resided in South Carolina.