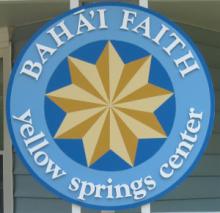 Baha'i Center, 502 Dayton St. Yellow Springs
Who is Bahá'u'lláh? | Equality of Women & Men  | Unity/ Oneness/Diversity/Elimination of Prejudice | 'Abdu'l-Bahá's Call for Race Unity in America 1912 
Programs that Nurture Spiritual Growth, Virtue Development, Amity and Unity
The Baha'is of Yellow Springs invite you to join with us in our efforts to strengthen the foundation of society through programs that nurture spiritual growth and virtue development, foster amity and unity, and lead to joyful, purpose-oriented lives. These programs focus on transformation, empowerment and service. People of all ages and backgrounds are invited to participate. We offer programs for children, junior youth, youth and adults. These programs offer a world-embracing vision of the oneness of God, of religion, and of humanity. As this vision grows, it is our hope that participants will develop a love for humankind, an appreciation for diversity, and a desire to serve the world. Programs for Spiritual Growth
All programs are inspired by the sacred writings of Bahá'u'lláh, Prophet-Founder of the Baha'i Faith.
Locally Created Initiatives:
INTER-FAITH & NEIGHBORHOOD COMMUNITY DEVELOPMENT PROGRAMS
Vitalizing Our Virtues is our newest offering – a virtue development support group for adults created by Baha'is in Yellow Springs. We will offer our support for you to start your own group among neighbors or friends or connect you with others. We currently have one women's group that has been meeting for three years and one neighborhood group.
Community Reflections on Racial Harmony and Justice a neighborhood initiative to host a simple series of inter-faith community reflection gatherings to elevate our conversations about the imperatives of racial unity and justice. The beginnings of this effort occurred in early 2015 in Beavercreek in the aftermath of the John Crawford shooting. What efforts could be mounted to build commitment to a unified community with justice, security, dignity and liberty for all? See supporting documents. Contact us for support.
PROGRAMS FOR CHILDREN
Summer Virtue Day Camps for Children ages 7-10. Campers will learn that the shining virtues of the human soul are the key to unity, happiness and success in their personal lives and in the world. For a school year virtue based program for ages 5-7 see Brilliant Stars. Children of all faiths welcome.
Refuge Research Collaborative – A special environment has been created at our Baha'i Center for our research on the spiritual development of children.
"This is worship: to serve mankind and to minister to the needs of the people."
~
'Abdu'l-Bahá
Devotionals:
We offer a community devotional once monthly on Sunday at 11:00 A.M. at the Baha'i Center. Various community members offer to host devotionals and holy days as a service to the community. Each devotional may have a different theme and format. To be informed of devotionals, holy days and other community activities see Events or email us at ysbahai@gmail.com to join our email list. All are welcome!
Schedule a film showing:
During the month of October of 2017 and 2019, the Baha'is in Yellow Springs along with some 100,000 localities around the world celebrated the Bicentenary of the Birth of Bahá'u'lláh and the Bicentenary of the Birth of the Báb respectively. The documentaries below were produced in celebration of these Twin Divine Luminaries, whose lives and missions are so closely interwoven, the echoes of Their divine teachings of love and unity reverberate around the globe, bringing hope and joy to the hearts of people everywhere.
We invite you to schedule a viewing as an individual or group using the contact information below or view films here:
Dawn of the Light This film follows the personal search for truth and meaning undertaken by eight people from diverse backgrounds (South Side Chicago, Nepal, Northern Ireland, Tajikistan, Zambia, Chile, an Iraqi living in Austria, New Zealand) and their discovery of Twin Divine Luminaries, the Báb and Bahá'u'lláh, Whose Divine Revelations are a source of transformation and empowerment for individuals and communities throughout the world. Their journey is explored against the backdrop of the remarkable life of the Báb and Bahá'u'lláh.
Light to the World This film takes you to villages and places around the globe as the people share how their encounter with the Revelation of Baha'u'llah has transformed the life of their communities by bringing about resilience, equality and unity. Vignettes on the life of Baha'u'llah are interspersed throughout.
Yellow Springs Street Fair
World Citizenship: An Ethical Foundation for Sustainable Development visit us in June in the plaza at the corner of Dayton and Corry Street. Participate in our World Citizen Game.
Our Heart of Humanity Gardening Game is set up during Street Fair on Elm Street in front of the Mills Lawn School playground. More Photos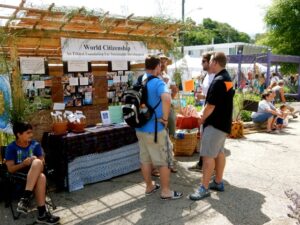 |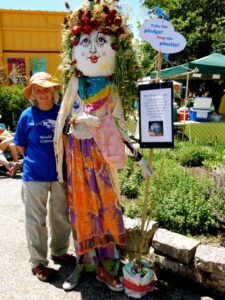 |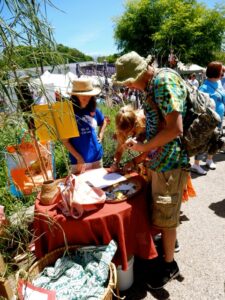 |