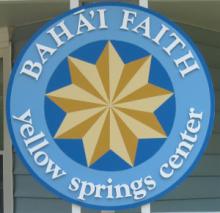 Baha'i Center, 502 Dayton St. (at High St.) Yellow Springs, 45387 (map)
The Baha'is of Yellow Springs invite all to join us in an active commitment to our own personal spiritual growth, which in turn spiritually enriches our family life and the life of the whole community. Through prayer and meditation, study of the Creative Word, and programs that nurture virtue development, strong bonds of friendship, creative expression, service to others, and joyful, purpose oriented lives, we are striving to build a better world for generations to come.
Due to the dedication and creativity of our teachers, our children's classes are known for their excellence here in Yellow Springs and around the Baha'i world. These classes offer children a world-embracing vision of the oneness of God, of religion, and of humanity. As this vision grows, it is our hope that these children will develop a love for humankind, an appreciation for diversity, and a desire to serve the world.
"This is worship: to serve mankind and to minister to the needs of the people."