Baha'i Writings on Education | Mining the Gems of Virtues | Baha'i Prayers for Children | Successful Education Will Cultivate Virtue | Parent Resources | Refuge Research Class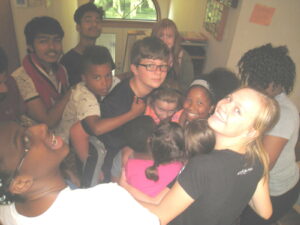 Children of Rays of the Sun Virtues Day Camps explore the beauty and meaning of specific virtues chosen for that summer like; Justice, Fairness, Courage, and Generosity…through drama, cooperative games, stories, art, music, discussion, and the Baha'i sacred writings. Campers will learn that the shining virtues of the human soul are the key to unity, happiness and success in their personal lives and in the world.
The dates of the camps are mid July and early August. Each camp has a maximum capacity of 12 campers, for ages 7-10. See Events for updated information.
After the August camp parents receive the complete detailed lesson plans used during the week as an attachment to an email and a link to Snapfish of photos taken during the camps. There will also be a physical memory album created that all are welcome to peruse.
Rays of the Sun children's classes and camps provide a highly unique and intimate learning environment in a home. Small motor activities, stories, and discussions occur in an internationally decorated classroom designated for this purpose. A large living room and dining area overlooking a wooded acre of land provide ample room for cooperative games, drama, dance, and art activities. A substantial play room space full of dress ups and educational toys on open shelves is utilized for breaks and unstructured playtime. The acre of wooded land with a big open area and swing set is the ideal location for large motor cooperative games and free time fellowship.
Contact Linden Qualls (937) 767-7079 Brilliant Star Class
Mining the Gems of Virtues article by Linden Qualls