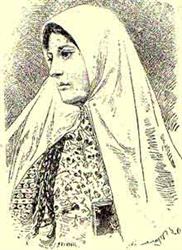 The White Silk Dress  Published in The Bahá'í World Vol IX (1940-1944), this article by Marzieh Gail provides an intimate portrait of Ṭáhirih. 
Who was Tahirih?  Tahirih's story told in the voice of a child – by the Tahirih Justice Center. Also includes video on How do you pronounce Tahirih?
Tahirih Justice Center is named after a prominent figure in 19th-century Middle Eastern history and the persecuted Bahá'í faith. Born in 1814, Tahirih (TAH-heh-ray) was an exemplar of women's strength in Persia, at a time when most women were kept illiterate and hidden from the public sphere.
Tahirih is remembered for her renowned skill as a poet, her theological insights, her leadership as one of the earliest Bahá'ís, and her ability to organize and inspire women to reject their oppressed status. In a particularly dramatic display of her leadership, Tahirih appeared unveiled before an assemblage of men and gave an eloquent speech about the need to reject old patterns of society. The act was so shocking to the audience that one man stood up and slit his own throat at the sight of her face.*
In 1852, at the age of 38, Tahirih was executed for her beliefs and activities. Her last recorded words were, "You can kill me as soon as you like, but you will never stop the emancipation of women."
*Please note: We take no position on veiling and support our clients in their decisions regarding their manner of dress.
A Gathering of the Poems of Tahirih by Susan Gammage
Baha'i Chronicles: Tahirih – [Badasht early July 1848] In the evenings, Bahá'u'lláh, Quddús and Táhirih would come together. In those days the fact that the Báb was the Qá'im had not yet been proclaimed; it was the Blessed Beauty, with Quddús, Who arranged for the proclamation of a universal Advent and the abrogation and repudiation of the ancient laws…Then one day…Táhirih, with her face unveiled, stepped from her garden, advancing to the pavilion of Bahá'u'lláh; and as she came, she shouted aloud these words: "The Trumpet is sounding! The great Trump is blown! The universal Advent is now proclaimed!" The believers gathered in that tent were panic struck, and each one asked himself, "How can the Law be abrogated? How is it that this woman stands here without her veil?"…"Read the Súrih of the Inevitable," said Bahá'u'lláh; and the reader began: "When the Day that must come shall have come suddenly… Day that shall abase! Day that shall exalt!…" and thus was the new Dispensation announced and the great Resurrection made manifest. At the start, those who were present fled away, and some forsook their Faith, while some fell a prey to suspicion and doubt, and a number, after wavering, returned to the presence of Bahá'u'lláh. The Conference of Badasht broke up, but the universal Advent had been proclaimed.
Martha Root records her visit to Tahirih's ancestral home 
Face to Face – Poem by Tahirih – Music by Pierre Weber and Lorraine Manifold
PURE trailer
Performed by Shirin Youssefian Maanian – Directed by Judy Boyle – Original music by Karen Solomon
Persia, 1848 – A woman dared to do an extraordinary thing… And nothing was ever the same again
One Woman performs sixteen characters in a poignant adventure about the short but brilliant life of the 19th Century Persian poetess and mystic, Táhirih, who heralded a new age of emancipation for women and challenged the religious fundamentalism in Iran at that time.
PURE was performed at the United Nations Headquarters in New York. And across the UK, Cyprus and in Athens, Greece.