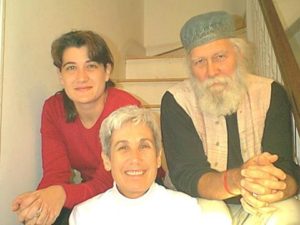 Rochelle Arlene Barson Cook (1943-2004) – our beloved Shelly and Aunty Shelly – was born on May 12, 1943 in Philadelphia, Pennsylvania, the second of three children of Raymond and Goldye Weiss Barson, recent Jewish immigrants to the USA from the Ukraine region of Russia.
Shelly grew up in the Oxford Circle area off Roosevelt Boulevard in the northern part of Philadelphia. She graduated from North East High School in 1961 where she showed early promise in arts and crafts.
She completed a BA in Fine Arts and Sculpture at the Philadelphia College of Art in 1966 and moved to Boston, Massachusetts where she worked as an outreach worker in an Office of Economic Opportunity funded anti-poverty programme. Later that year, Shelly discovered and became a devoted follower of the Baha'i Faith.
Shelly and Cecil E Cook met in Boston in 1966 and were married on March 31, 1967 in a 5 minute marriage ceremony – witnessed by the officers of the Local Spiritual Assembly of the Baha'is of New York City – just before a Feast Day observance.
The newly married couple travelled to a remote area in Mato Grosso, Brazil, where they lived with and studied the culture, religion, art, etc. of the Nambiquara Indians until early in 1969, when they returned to the USA and took up residence in Yellow Springs, Ohio.
Shelly gave birth to her beloved daughter Tahirih Sabah Cook on March 26, 1971. During the three years Shelly lived in Yellow Springs, she and her husband actively taught the Baha'i Faith and succeeded in raising up the first Local Spiritual Assembly in that community.
In 1972 the Cooks moved with their small daughter to a hilltop farm outside Bainbridge,Ohio, as homefront pioneers to Appalachia. Here Shelly began working as a teacher in a home based preschool programme and took courses at a distance from the University of Massachusetts Faculty of Education (ANISA MODEL).
Shelly's work with, dedication and love for children, at various Baha'i venues throughout Ohio and the U.S. was infectious and inspired many others, with no background in education, to dedicate themselves to working with children. Many of those she inspired have continued their work with children broadening the circle of inspiration to others and embraching the greater community as well.
In 1978 Shelly, Tahirih and Cecil visited South Africa for the first time. Shelly and Tahirih travelled to many rural communities in Botswana, Swaziland, and South Africa, meeting villagers and teaching them about the unifying principles of the Baha'i Faith. After her return to the USA, Shelly decided she wanted to go back to southern Africa as a self-supporting Baha'i Pioneer. She set herself the goal of getting a Masters Degree in Education so that she could find work in South Africa as a qualified teacher.
Immediately after her return from southern Africa, Shelly decided to move from the farm to Columbus, Ohio, where she enrolled in the College of Education at Ohio State University. In 1982 after four years of part time studies she completed her Masters Degree in early childhood education. Shelly worked in preschools and as a substitute teacher to help pay for her education and a share of the family's expenses.
In August of 1982, an opportunity arose for the Cooks to relocate as a family to Transkei region of South Africa where Shelly could both work as a teacher and serve the Faith of Baha'u'llah as a Pioneer. The family took up residence in Umtata. Shelly got a job teaching at Ndamase Senior Secondary School about 20 kms outside of Umtata. Between 1982 and 1988 Shelly helped many hundreds of her grade 12 pupils greatly improve their matric symbols in English by creating many different types of interactive teaching methods and materials.
Between 1988 and 1993 Shelly continued to teach hundreds of aspiring young teachers at Cicira College of Education how to provide their pupils with a high quality education in Communication Skills, Teaching Aids, and Art. She did her best to transfer her proven methods of interactive teaching to her students.
Shelly worked with other Baha'is to promote after school and weekend opportunities for learning and enrichment for urban youth in Umtata through the Baha'i Peace School. She also supported the establishment and development of village preschools run by Baha'is by helping to train the teachers.
In 1993 the family relocated to a small farm outside of Stutterheim. During 1994 and 1995 Shelly worked in East London where she served as the Inspectress of Preschool Education for the Municipality.
In 1995 Shelly opened the New Garden Preschool as a Baha'i inspired social and economic development project. Her goal was to raise the standard of preschool education in the Stutterheim area by creating a multi-racial learning environment that would recognize and facilitate the development of each child's unique capacities as a distinctive flower in God's beautiful garden of humanity.
Shelly continued to offer and provide training to Baha'is in how to create and run high quality preschools by systematically combining virtues based moral education with the teaching of school readiness skills. Each year Shelly continued to experiment with new approaches to unlock more of the potential of her preschool pupils.
In 2002 Shelly returned to the Columbus, Ohio area for eighteen months, staying with her dear friends, Keith and Elaine Kresge, while she was receiving treatment at the James Cancer Medical Center. Although in extremely fragile health, she longed to return to her pioneer post in Stutterheim, South Africa, when her ovarian cancer became resistant to further treatment. When she arrived at the airport in S. Africa her husband was surprised to see her walking unassisted. She had given up the one wheelchair to an 'old lady'.
Just before Shelly's death her husband Cecil writes:
She had us laughing our heads off last nite before prayers remembering the outrageous way we lived for 6 weeks in a tent on our little mountain top farm in Southern Ohio when Tara was about a year and a half old, drinking water from a spring and boiling nappies in a pot to sterilize them, while I commutted 2 hours to my job at a university near Dayton, Ohio. "How in the world did I agree to live under such conditions, but I did. It was my own fault. I accepted it all."….
This afternoon, an African Baha'i mother – who became a Baha'i while squatting in our garage for several years back in 1982 – brought her 7 children (one a university graduate, two still in university, and one on his way to university) and her brand new MA thesis for a visit. They brought food for Africa and we ate together. The extended family of 8 crowded into Shelly's bedroom and sang wonderful Baha'i songs of praise and celebration. Shelly was so happy to be with her friend of 23 years and her grown up, educated, successful children.
Shelly asked her friend to serve as the MC for her funeral. She asked that the friends be given an opportunity to share some of their personal experiences of and with Shelly over her past 23 years. She emphasized that her funeral was to be joyful, up beat, with plenty of singing…not a mournful gathering.
Shelly has been visited by a steady stream of Baha'i friends from around the Eastern Cape who have shared their love and encouragement with us in many different ways. She has also been visited by the parents of former pupils from the New Garden Preschool who are deeply attached to Aunty Shelly.
Shortly before Shelly lost her ability to communicate with us, she was joking with some of the African youth from Stutterheim. She told them: 'you know I am becoming an ancestor. There will be no need for you to sacrifice a goat to talk to me. Baha'i ancestors are free (she said 'mahala', which is the slang term for free). You can talk to me any time you like. Maybe I can help you out!'
Shelly Cook, beloved wife of Cecil E Cook and mother of Tahirih S Cook, and a Baha'i pioneer since 1982 in the Eastern Cape, passed away quietly early Tuesday morning (January 6th).
Shelly is buried in the Baha'i section of the Cambridge Cemetery in East London next to her dear Mama Shumi, her African mother, and the three martyrs of Mdantsane.
(Written by Cecil Cook, compiled and edited by Susan Tower.)