In Honor of the Suffering Sustained by the Báb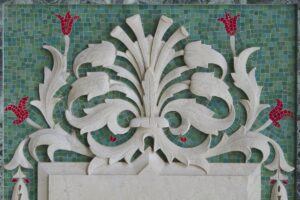 This poem was inspired by the statement of the Universal House of Justice on May 22, 2001 delivered at the celebration of the Opening of the 19 Terraced Gardens of the Shrine of the Báb on Mount Carmel in Haifa, Israel. (Full Text)
Selection: The sufferings sustained by the Báb so as to arouse humanity to the responsibilities of its coming age of maturity were themselves indications of the intensity of the struggle necessary for the world's people to pass through the age of humanity's collective adolescence. Paradoxical as it may seem, this is a source of hope. The turmoil and crises of our time underlie a momentous transition in human affairs. Simultaneous processes of disintegration and integration have clearly been accelerating throughout the planet since the Báb appeared in Persia. That our Earth has contracted into a neighborhood, no one can seriously deny. The world is being made new. Death pangs are yielding to birth pangs. The pain shall pass when members of the human race act upon the common recognition of their essential oneness. There is a light at the end of this tunnel of change beckoning humanity to the goal destined for it according to the testimonies recorded in all the Holy Books.
Note about Opening Lines
At noon on July 9, 1850, the Báb was executed by firing squad of 750 riflemen in the town square of Tabriz, Persia. The opening lines of the poem are from a recounting of the Martyrdom of the Báb in The Dawn-Breakers by Nabíl-i-A'ẓam "The very moment the shots were fired a gale of exceptional severity arose and swept over the whole city. A whirlwind of dust of incredible density obscured the light of the sun and blinded the eyes of the people. The entire city remained enveloped in that darkness from noon till night."
Oneness
As the shots rang out
A ferocious gale swept over the city,
A whirlwind of dust obscured the sun,
Swirling away the cobwebs from our collective childhood,
Arousing humanity from a deep adolescent sleep,
Whirling humanity towards maturity, an age of responsibilities.
Disintegration, integration,
Accelerating throughout the planet,
The earth contracting
Into a neighborhood,
The world being made new.
Death pains, birth pains.
When will it pass?
When will it end?
A light beckoning humanity,
Ancient prophecies fulfilled,
Could suffering be calling us to hope?
Listen, listen, listen,
What do you hear?
embrace, embrace, embrace…
by Susan Poppa Tower, Yellow Springs, Ohio
An art response to a Ruhi course on the Twin Manifestations of God