Forging A Path Toward Racial Justice | Oneness/Unity/Diversity/Prejudice | A Call for Race Unity in America 1912 | Baha'i Writings on Justice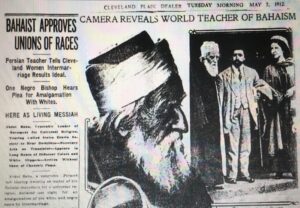 In 1912, Abdu'l-Baha, the son of the founder of the Bahá'í Faith, traveled from coast to coast across America after a lifetime of imprisonment and persecution.
He called on America to become a land of spiritual distinction and leadership and gave a powerful vision of America's spiritual destiny — to lead the way in establishing the oneness of humanity.1
Abdu'l-Baha in Cleveland:
Persian Hailed as New "Messiah," Comes to Teach Unity of the World – Cleveland Ohio Leader – April 22, 1912 (audio)
BAHAIST APPROVES UNIONS OF RACES – Cleveland Plain Dealer
Abdu'l-Baha arrives in Cleveland on May 6, 1912.
'Abdu'l-Bahá arrived at Cleveland's Union Station on the New York Central train from Chicago at 4:20 p.m. on May 7, 1912. During the past two weeks, Americans had learned of his battle against the ideologies of racial prejudice from major Washington newspapers and the Chicago Defender. But hardly anyone, whether black or white, had any inkling of just how far 'Abdu'l-Bahá was willing to go.
Reporters and visitors followed him up to his rooms after his evening talk to 200 people at the Hotel Euclid. To an African-American clergyman and a group of about twenty white women sitting in a circle, he broached the most dangerous of all subjects. The Cleveland Plain Dealer, one of Ohio's biggest newspapers, reported it unvarnished the next morning:
"Abdul Baha . . . declared last night for an amalgamation of the white and negro races by intermarriage." What 'Abdu'l-Bahá advocated was illegal in twenty-nine of the forty-eight states — but not in Ohio. 239 Days In America
Abdu'l-Baha and Bahá'ís at Dr. Swingle's Sanitorium in Cleveland, Ohio May 6, 1912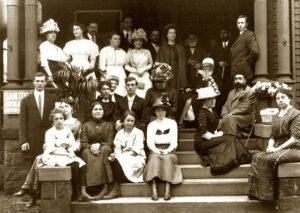 Abdu'l-Baha in Cincinnati:
Upon reaching Cincinnati Abdu'l-Baha gave a public talk to five-hundred people at Grand Hotel
Teaches Harmony of All Religions Youngstown Ohio Telegram – May 25, 1912
Talk by Abdu'l-Baha at Grand Hotel – Cincinnati, Ohio – November 5, 1912 (audio)
On Election Day, Abdu'l-Baha Praises Cincinnati's Favorite Son
America is a Noble Nation, the Standard-Bearer of Peace article BahaiTeachings.org by Jonathan Menon
Notes: 1. 'Abdul-Bahá's Journey Across America
Abdu'l-Baha, (1844-1921), eldest son of Baha'u'llah and His chosen successor, was known as an ambassador of peace, a champion of justice, and the leading exponent of a new Faith. He was awarded a knighthood by the British Mandate of Palestine for his humanitarian efforts during WWI. Through a series of epoch-making travels to Africa, North America (239 Days In America) and Europe,`Abdu'l-Bahá–by word and example–proclaimed with persuasiveness and force the essential principles of his Father's religion. Upon his death ten thousand people–Jews, Christians, and Muslims from all denominations–gathered on Mount Carmel in the Holy Land to mourn his passing. Today he is embraced by more than 5 million Baha'is as the perfect Exemplar of what it means to be a Baha'i.
In 2021 the Bahá'í community will mark the Centenary of the Ascension of 'Abdu'l-Bahá. At the time of His passing His mortal remains were laid to rest within a vault of the Mausoleum of the Báb. It was envisaged by Shoghi Effendi that this would be a temporary arrangement. A Shrine was to be erected, of a character befitting the unique station of 'Abdu'l-Bahá, at the appropriate time. Design concept for the Shrine of 'Abdu'l-Baha Unveiled September 20, 2019. Coverage of construction work for the Shrine of 'Abdu'l‑Baha.